Cooking with Mukti
Online Indian Cooking Class
to benefit Brooklyn For Peace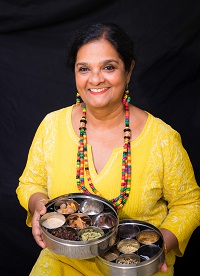 Learn to prepare a healthy and delicious Indian dinner in this online cooking class led by Mukti Banerjee, an accomplished cook, instructor and Brooklyn For Peace Board Member. Mukti is a master at preparing healthy dishes, using authentic, modern Indian techniques adjusted for American kitchens and dietary restrictions.
Mukti's regular fee for online classes is $40, and they are often sold out. To raise much-needed funds for Brooklyn For Peace Mukti is offering a class for just $25 to encourage wide participation. All proceeds will go to support BFP.
When: Thursday, September 10, 6:30-8:30 PM
Where: Online via Zoom
Cost: $25 per person (additional donations gratefully accepted)
Join the fun, and have a delicious meal while supporting our work for peace and social justice.
Where else can you do all that for just $25? Buy your ticket now!
The menu will be vegan

A recording of the event will be available for all those who donate!
How the Online Class Will Work
Before the class, be sure to download Zoom. It's free! We recommend that you get used to how it works before the class.
Sign up here to attend the class: all proceeds will go to Brooklyn For Peace. Can't make the class? You can still support BFP by making a tax-deductible donation online.
Once you are signed up we will send you a link to log into the class on Zoom. We'll also send you will a shopping list of ingredients and equipment so you'll know what to have on hand.
When
September 10th, 2020 6:30 PM through 8:30 PM
Event Fee(s)
Tickets
$ 25.00
Additional Donation